Industrial Hoses – Key point
Flexible hose assemblies may have different functions on installations: connecting movable transport tanks, allowing certain type of movements of machine or device while continuously supply/discharge fluid or isolating from vibration or stresses coming from the working machines or many other specific functions. The common feature is one: they are all potentially "weak chain" of installation, especially exposed to risk coming from the inside "difficult fluid" being conveyed (extreme pressure or/and temperature, chemical attack) or from the external factors (mechanical destruction: overbending, cutting, abrasion, extreme external temperatures or exposure to chemical attack etc.) At some applications, the most demanding for the hose, can be the cleaning process – for example sterilization and cleaning in food and pharma industries. To meet requirements of different applications we offer more than 400 types of hoses, while more than 100 types in many popular sizes are continuously available from our warehouse.
Our experienced team will help you to find the most suitable option for your application.
Chemical hoses
Oil & fuel hoses
Food hoses
Pharma hoses
Hot water & steam hoses

Abrasive & material handling hoses
Vacuum suction hoses
Hose protections & sleeves
Water hoses
Compressed air hoses
For above mentioned fields of application we offer hoses of different construction:
rubber hoses, plastic hoses, metal hoses, composite hoses.


Endfittings & Quick Couplings
So many requierd types and options
The more advanced is the hose, the more important is the right fitting. Even in case we need popular standard of threaded or flanged connection, the endfitting and the style of its fixing to the flexible hose, has to be carefully selected considering the hose type. In demanding applications and high working parameters, the usual universal endfittings become insufficient soon and it necessary to go for the specialized ones – like the fittings dedicated for chemical hoses, steam hoses or dispenser hoses. There are also available additional ranges designed for composite hoses, swaged or crimped rubber hoses, welded endfittings for metal hoses and fittings suited to integral bulid-in for PTFE lined or rubber hoses (vulcanized together with the hose). Most of them are multiplied by the long list of existing standards of couplings, quick couplings, their material options and sizes. Thousands of parts.
Our offer covers most of popular standards. Several thousands of parts are constantly available from our warehouse for the prompt shipment or to be assembled on the hose. Additionally, we design and manufacture special, customized endfittings.
Threaded $ flanged fittings for industrial hoses
Threaded & flanged fittings for food and pharmaceutical applications
Quick couplings (eg.: Camlock, TW, Storz, Guillemin etc.)
Dry disconnect couplings (eg.: STANAG , API and others)

Hose Assemblies – Professionally Assembled
Technology development and step-by-step higher working parameters, as well as growing demand regarding the reliability & safety of hose assemblies, turns the customers towards specialized hose assembling companies. For certain applications it is required that assembling company has to be authorized and certified by official body. In Poland such institution is TDT (Transportation Technical Supervision).
We have full range of options to manufacture ready-to-use hose assemblies. Apart from the classic mechanical attachment methods with clamps we use specialized swaging and crimping presses and we weld fittings to the metal hoses. Our welding procedures and the welders are qualified and approved. After assembly, the hoses are put into rigorous tests to verify and prove their quality and check if they met expected performance.
Ready, tested, assemblies are permanently marked according to our standards or according to the customers' need.
We also supply special hose assemblies made originally by our suppliers. There are available integrally PTFE lined hoses, more special versions of metal hoses, big bore composite hoses (ship-to-shore, offshore) and integrally vulcanized rubber ones.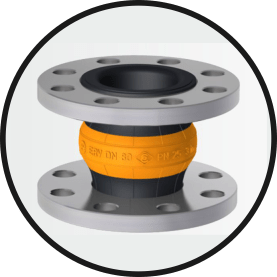 Expansion Joints
Flexible solution where there is no place for hose
Thanks to our experience with hoses we know their benefits and limitations. In many cases, especially in tight spaces, big nominal diameters or to provide flexible connection between the pipeline and tank or device – expansion joint is the best solution.
We offer wide range of best quality rubber expansion joints as well as the metal and PTFE ones. Of course, we help with the selection of type or cooperate in design of the special expansion joint.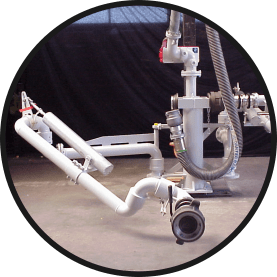 Loading Arms
Easy operation
In case of the large reloading terminals for massive product transfer our customers often face the difficult dilemma: should the tanker be connected utilizing relatively simple hose assembly systems or more complicated loading arm with rigid pipes and swivels? The final decision depends on many factors of purely functional features, safety and economy.
The major benefit from applying loading arm is simplicity of precise balancing what makes the connection process is much easier, especially at bigger nominal diameters.
Our rich experience with advanced flexible assemblies and design of loading terminals helped us to introduce also loading arm systems. We have completed supplies, assembly and start the operation of several loading arm systems, both for railcar and road tankers.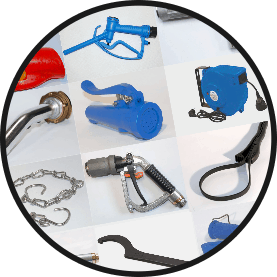 Additional Components
& Accessories
Necessary AD-ON
In many cases a hose just with fittings is not enough. For the safe and comfortable work some extra components and accessories may become a must.
Breakaway couplings
Shut-off, regulation & safety valves
Nozzles / guns
Swivel or rotary joints
Sight glasses
Saddles, slings, protection rings & hose reels
Expasion joints
Seals
Wrenches
Thanks to our many years of experience in design of filling and unloading terminals we have a wide range of available proven solutions and components. The most popular ones are constantly available from our stock – the others we select and supply upon specific demand. To assure safe use of the existing installations and components we take care by offering original repair kits and our on-site service.
On-site Service
Properly manufactured hose assemblies should last long. To be sure that their performance is still in a good shape all they have to be regularly verified. In some applications it is mandatory to provide periodical check – including hydrostatic pressure test, but more and more companies concerned about the safety of their employees and trouble free use decides to order professional hose test. For many years we provide this kind of service on our customers' factories and plants. We operate fully equipped mobile service team that allows our to run all regular tests and – if necessary – repair & maintenance of hose equipment: cleaning, changing sets of seals or other used parts of the couplings and quick couplings or change the hose.

Flexibility fits the needs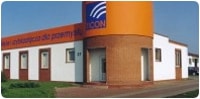 TICON Since its foundation in 1996 is specialized In advice and supply of flexible hose assemblies for aggressive, dangerous and sensitive fluids. We focus on professional selection, completion and supply of industrial hoses and hose assemblies, expansion joints, fittings and couplings.
Our aim is understanding the customers' needs in the best way and recognizing all technical features of their applications, to find out and propose the optimal solutions – technically and economically wise – but without compromising the safety.
Years of experience builds knowledge
Practical completion of many difficult tasks including supply, design, assembly and on-site service in leading industrial plants across Poland, in chemical, petrochemical, pharmaceutical, food industries, re-loading and storage terminals, continuous extensive cooperation with OEM's of storage tanks, tankers, haulage companies, as well as close cooperation with our suppliers – world leading manufacturers of hoses and fittings, has created and continuously improves our capabilities. Direct access to the state-of-the–art components that are setting the new industrial standards and consequent development of own design and manufacturing capabilities allow us to react promptly and complete fast deliveries of many complex products. Large stock of hoses and couplings allows prompt supply of hoses, fittings and accessories.
Certificates & Approvals
TICON, on the basis of its long experience, provide support in advice and design of filling and discharging equipment for tanks.
Ticon is TDT and WDT approved.

Scope of certification:
"Design. manufacturing, modernization, repair, service of loading and unloading devices for transport tanks and the flexible hose assemblies as well as wholesale and retail of goods and products." Ticon Sp. z o.o. is approved to manufacture, modernize and repair of loading and unloading devices for transport tanks and flexible hose connections.Ticon Sp. z o.o. posiada uprawnienia do wytwarzania, modernizacji i naprawy urządzeń do napełniania i opróżniania zbiorników transportowych oraz elastycznych przewodów przeładunkowych.
((decision nr TDT-W/M/N-41/12 dated 21 May 2012 r.))