Expansion Joints
The flexible part of pipeline
Even quite simple piping systems needs expansion joints – to compensate the influence of thermal expansion, static and dynamic movements due to load changes, pressure surges and for damping vibrations and noise.These are very difficult tasks, that requires high flexibility, while the best possible strength and resistance against the internal factors (pressure, temperature, physical and chemical properties of the medium) and external factors (outdoor applications with huge temperature fluctuations and exposition to UV or heat radiation, salty moisture or flame) have to be assured. Additionally, the expansion joints are principally the integral parts of the installations and they have to provide possibly longest lifetime – even in continuous use – in heating installations, petrochemical installations or storage tanks. Apart from the requirements connected to durability, last but not least is the requirement of cleanliness – especially in the applications like transfer of potable water or foodstuffs.
How to choose the expansion joint?
Movements
The key is the type of allowed movements and their ranges, which have to be absorbed by the expansion joint, without the risk of damage. Depending on the direction we can define three basic types: axial (compression or expansion), lateral and angular. The manufacturers of expansion joints provides the specific limit values concerning their products. It has to be expressed, that apart from the designed directions of the movement, its dynamics has to be observed. Fast movements of high frequency – e.g. vibrations, even within the allowed range of movements can lead to quick wear of the expansion joint.

Parameters
As a classical selection criteria, the basic parameters of the application are valid:
chemical compatibility/cleanliness,
pressure and vacuum,
temperature,
nominal diameter
When selecting the expansion joint all external factors that are present in the place of installation have to be thoroughly taken into account. These can be the elevated temperature (as inside the engine chamber), risk of flame or the presence of a corrosive atmosphere. Some applications – in order to provide the highest safety – require exclusively specific products, certified by the notified bodies. The marine applications are an example.
In many cases one of the primary criteria can be the installation length, while the required range of movements is assured.

In terms of the construction materials we can choose between the expansion joints made of the rubber, metal sheet (single and multilayer) and PTFE. Every type can be equipped with the additional elements limiting the movements (tie rods).
Rubber expansion joints
Rubber expansion joints provides large movement ranges, presents negligible inherent resistance and are very compact (short installation length). Thanks to wide range of available rubber compounds and reinforcement materials they can be applied for very different media. There is no risk of stress corrosion and fatigue due to vibration – while they are effectively dampening the noise and vibrations. They are also quite resistant against the external mechanical damage, e.g. by hitting. The mostly used are expansion joints with single bellow, reinforced with synthetic cord, with the rubber liner selected for the conveyed fluid.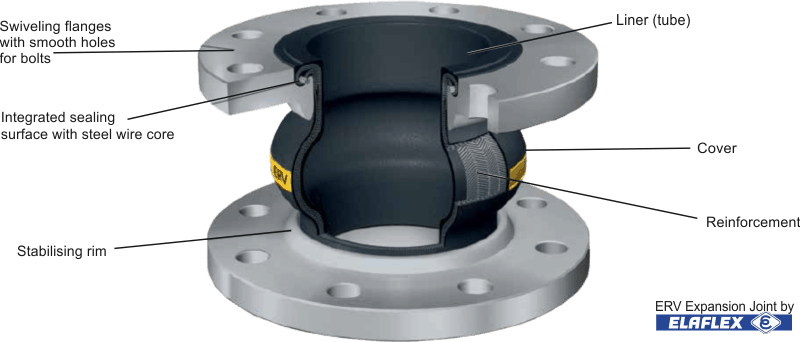 The single sphere type, synthetic cord reinforced rubber bellow with swiveling metal flanges is the most popular, widely used type.
For some applications that requires an extra durability, longer lifetime and the flame resistance, the synthetic cord is replaced with the steel wire reinforcement.
Options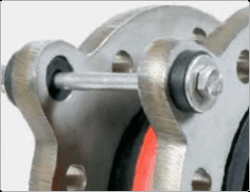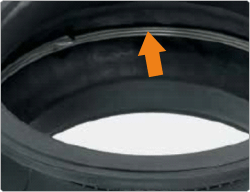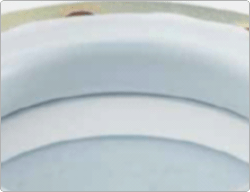 Linings and sleeves
PTFE lining is protecting the internal surface of the bellow against chemically aggressive medium. For the fluids containing abrasive particles – the metal sleeves are used.
SR – sleeve
TA – lining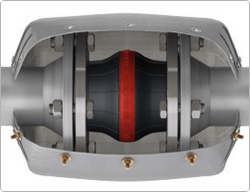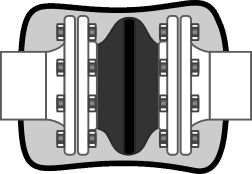 Protection covers
Used to shield the expansion joint against high temperaturę, flame, weather conditions and the sun.
FSH – Flame protection cover
TECHNICAL INFORMATIONS
Rubber expansion joints types
ERV PRODUCT RANGE
ERV high quality expansion joints DN 25 -1000 by Elaflex/ContiTech. With swiveling flanges ( various types and materials ). For detail information see Elaflex catalogue.

ERV-R
RED BAND expansion joint for water, drinking water, waste water, seawater, cooling water, chemical waste water (without oil), chemicals, acids and alkalis, salt solutions, alcohols.
Temperature range
-40° C up to 100° C,
temporarily up to 120° C.
Lining Butyl / EPDM.
ROTEX
ROTEX expansion joint for permanent service with heating water, cooling water and hot air (without oil). W.P. 10 bar up to 100° C, 6 bar up to 110° C. Temperature range -40° up to 130° C, temporarily up to 150° C.
TÜV approved for heating
installations.
Lining EPDM.
ERV – CR
CR expansion joint for cold and warm water, seawater (also oil containing), various waste water, lube oils and greases, air, compressed air. Temperature range -25 ° C up to 90° C, temporarily up to 100° C.
Lining Chloroprene.
ERV – BR
BR expansion joint for abrasive media such as sludges, solid/liquid mixtures, dustlike and pow- dery products. Temperature range -50° C up to 70° C, temporarily up to 90° C.
Lining BR/NR.
ERP
RED SPOT expansion joint for sanitary facilities, cold / warm water, swimming pool water, sea- water, drinking water. Highly flexible + low own resistance. W.P. max. 10 bar. Temperature range -40° C up to 90° C,
temporarily up to 120° C.
Lining Butyl / EPDM.
ERV – G
YELLOW BAND expansion joint for petroleum based products up to 50 % aromatics, also town gas and natural gas, cooling water emul- sions with corrosion preventing oil. Temperature range -20° C up to 90° C,
temporarily up to 100° C.
Lining NBR.
ERV – GS
YELLOW STEEL expansion joint. Similar to type ERV-G, but fire resistant to ISO 15540 (type approved). Temperature range -20° C up to 90° C, temporarily up to 100° C. Lining NBR.
ERV – GS HNBR
YELLOW STEEL HBNR expansion joint for pe- troleum based products up to 50 % aromatics and hydraulic oil. Very good ageing, weathering and ozone resistance. Temperature range
-35 ° C up to 100° C,
temporarily up to 120° C.
Lining HNBR.
ERV – G LT
YELLOW BAND LT expansion joint designed for low temperature applications for petroleum based products. Temperature range -40° C up to 90° C, temporarily up to 100° C.
Lining NBR.
ERV – OR
ORANGE BAND expansion joint for Liquid Petroleum Gas (LPG) according to EN 589. temperature range -20° C up to 90° C. Working pressure 25 bar, burst pressure > 100 bar
ERV – GR
GREEN BAND expansion joint for acids, alkalis, chemicals and aggressive chemical waste water. Temperature range -20° C up to 100° C, temporarily up to 110° C. For oil contaminated compressor air
up to 90° C. Lining CSM.
ERV – W
WHITE BAND expansion joint for foodstuffs, also oils and fat containing food. Liner conforms to German foodstuff regulations. Temperature range -20° C up to 90° C, temporarily up to
100° C.
Lining NBR, light grey.
Accessories
Tie rods with outer limitation (… ZS),
Tie rods with inner and outer limitation (… ZSS),
Angular limiter ( … RG ),
Inner protection sleeve stainless steel (… SR),
PTFE liner ( … TA ),
PTFE liner and vacuum support ring (… TAS),
Vacuum support spiral stainless steel (… VSD),
Vacuum support ring stainless steel (… VSR),
Bolted vacuum support ring stainless (… VSRV),
Flame protection cover ( … FSH ),
Flame protection cover Naval Standard (… FSH-M),
Earth Cover (… EAH).
Metal expansion joints
The metal expansion joints made from the corrugated metal sheet are traditional, and usually indispensable parts, of the pipeline. To reach the expected pressure resistance and retain the required elasticity they are usually made of multiple layers. The tubes made from a thin metal sheet are shaped with mechanical and hydraulic methods. The waves may have different profiles – suited to the needs. Multilayer construction enable the use of different materials, e.g. for inner and outer layer to achieve higher corrosion resistance the special alloys can be used. Additionally, such construction is more flexible than a single thicker metal sheet. Metal expansion joints are manufactured in the extremely wide range of diameters – from teens of millimeters up to several meters.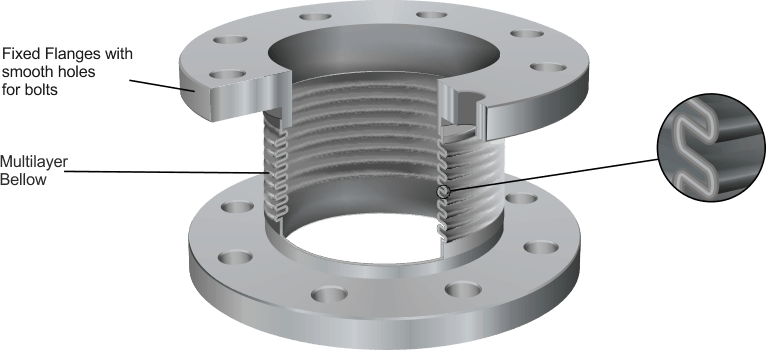 Differently than rubber expansion joints, which are always a separate part that could be disassembled, the metal ones are usually permanently welded to the pipeline or manufactured as multi-bellow sets, consisting of two or more bellows and additional parts provided to limit the movement to the defined planes and ranges, or more sophisticated designs that can compensate the reaction force arising from the internal pressure. Over time there have been developed many complete solutions using a waved metal bellows.
The characteristic feature of the metal expansion joints is relatively high spring rate, so high, that it have to be considered in pipeline calculations. For that reason the manufacturers of the metal expansion joints specifies for their products not only the effective area, to calculate the reaction force aroused from the internal pressure, but also the spring rate dependent on the range of movement.
Metal expansion joints are used for the extreme working conditions (temperature, pressure, chemical resistance) or extreme sizes (expansion joints of several meters of diameter for process technology – e.g. chemical reactors).
Typical ranges:
DN from 15 – 5000 mm,
PN from vacuum through pressure classes 1, 6, 10, 25, 40 up to 63 bar,
temperatures: -30°C up to 1200°C (standard material 1.4541 up to +550°C),
materials: bellows – usually 1.4541 (AISI 321) Other options see: Bellow Materials,
life cycles (designed life cycles): basic – 1.000 cycles – other – upon demand,
media examples: air, exhaust, water, steam, mineral oils and fuels, liquid gases etc.
Metal expansion joints are mostly designed according to the standards defined by E.J.M.A (Expansion Joint Manufacturers Association, Inc.), which specifies the methods to calculate the strength of bellows for number of different load types. Actually valid is 9-th edition of this standard – EJMA 9. Metal expansion joints are also specified by European Norm EN 14917.
Metal expansion joints types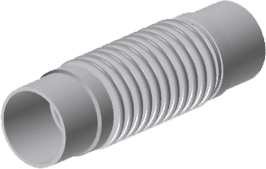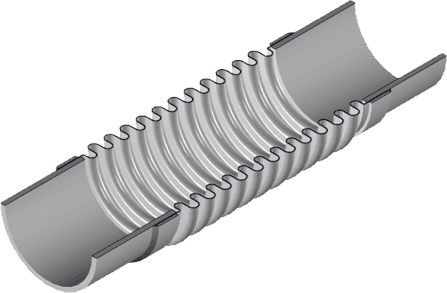 Single bellow (axial)
Capable to absorb axial movements, small lateral and angular, vibration and combined movements in a single plane.
Economic, but with limited pressure capabilities, require proper anchoring and guiding.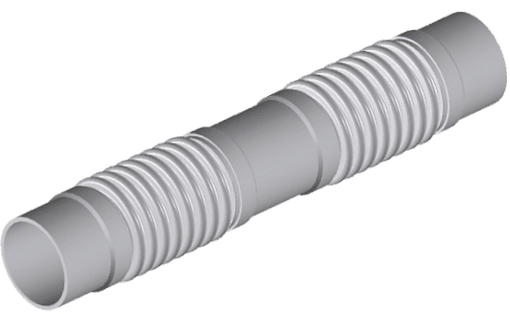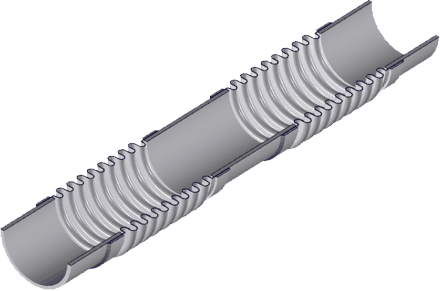 Universal (lateral)
Allow lateral movements in any direction. Consist of two bellows connected with the tube.
Usually equipped with tie rods to control the pressure thrust, so there is no need for anchor.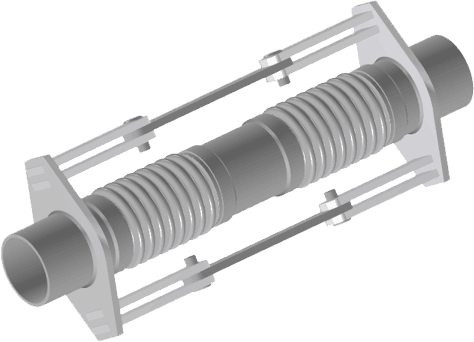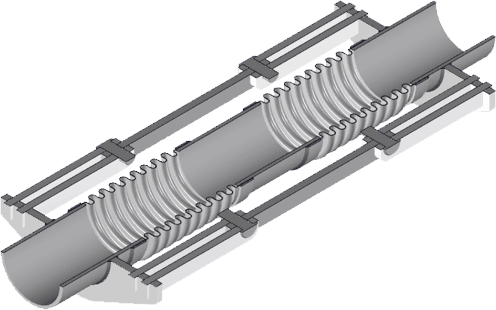 Universal swing
Can absorb large lateral and angular movements in one plane due to swing bars with pins near ends of the unit.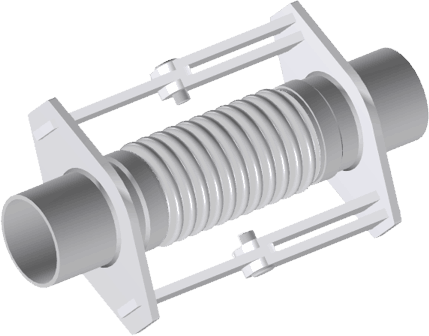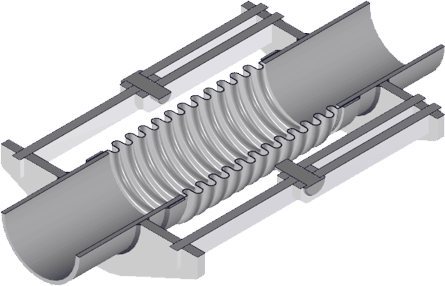 Hinged (angular)
Allows only angular movements in one plane.
As the bars are permanently fixed on both ends, the pressure thrust form the bellow is not transmitted to the pipeline. Usually used in pairs on more pieces.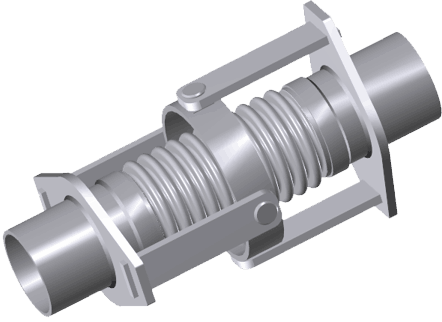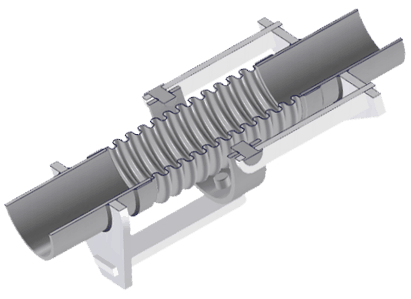 Gimbal
Allow to angle in any plane thanks to the pair of two hinges fixed to the common floating ring located centrally.
Pressure thrust from the bellow is not transmitted to the pipeline as the swing bars are permanently fixed at both ends.
Apart from the above listed standard configurations, there are many solutions of expansion joints designed as the integral units, e.g. with the internal compensation of the pressure thrust, that eliminates need for anchoring or externally pressurized bellows designed to eliminate squirm problem at high pressures.
Usually, there are very specific and different solutions designed to solve the specific application problems. Do not hesitate contacting our sale team for special items.
Options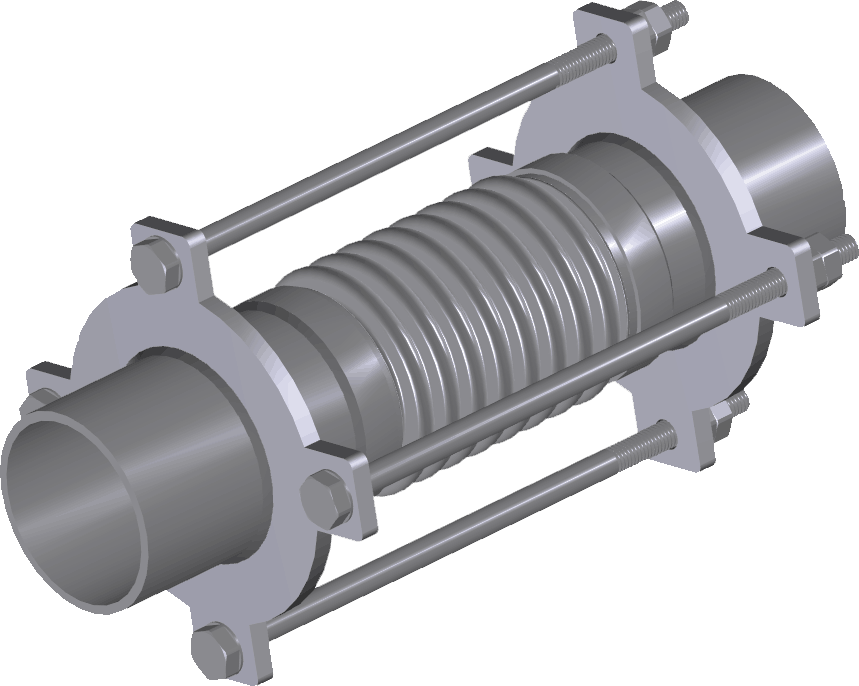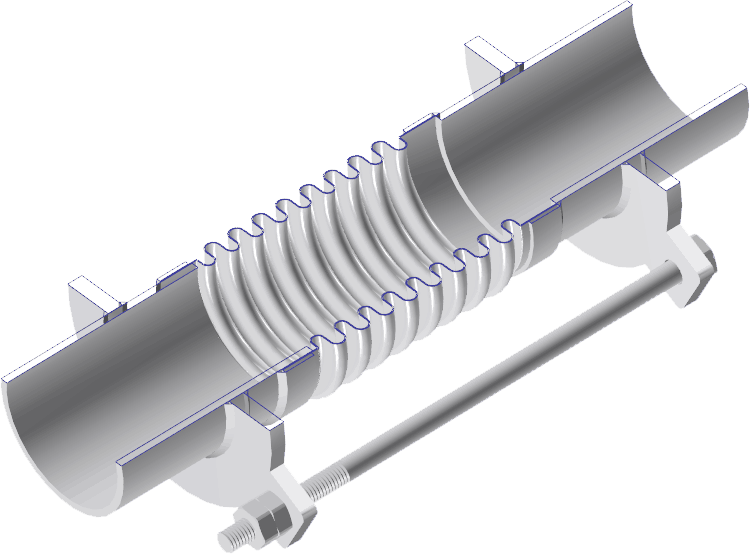 Tie rods
Used to secure the expansion joint against over extension and/or over compression. In the normal working conditions they have no influence on working expansion joint.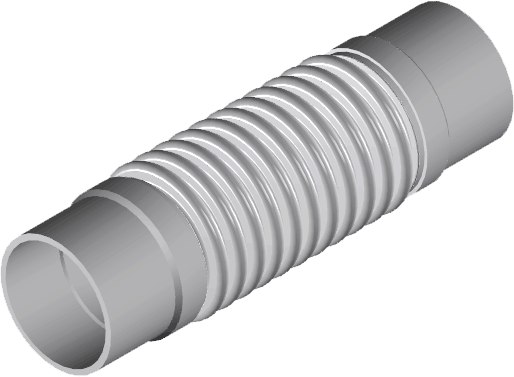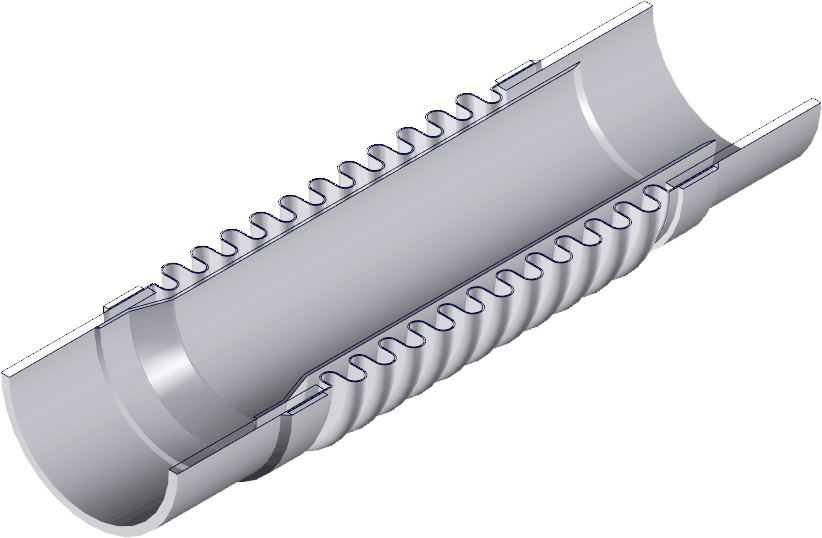 Inner sleeves
Used to minimize turbulences of the fluid passing through and reduce the creation of vibrations, to secure metal bellow form erosion when the fluid contains solid particles or reduce direct influence of the high temperature. During installation, the flow direction should be observed.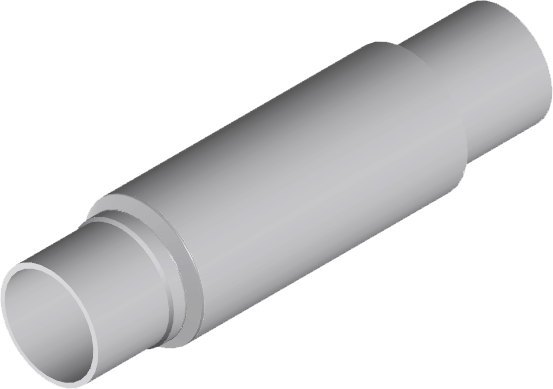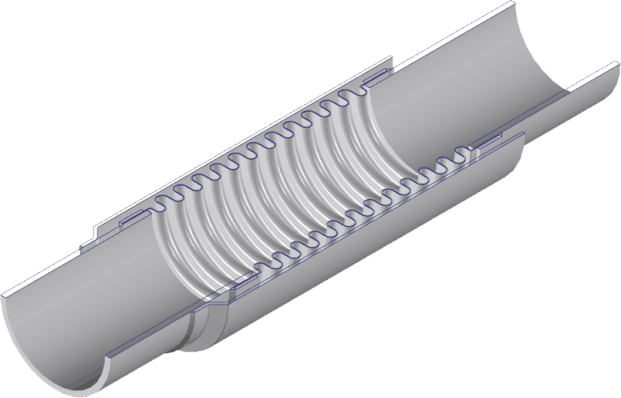 Covers
Used to secure the outside of the bellow from various external factors or to provide guidance of the bellow.
Similarly to the variety of types of expansion joints, the specific options can be very different and specific for the application. These could be special guiding parts, components enabling the installation (e.g. pre-tension), holders for lifting and maneuvering the expansion joint, that are necessary when it is big and heavy. On top of that, there are safety features like leakage detection features that allows to control the integrity of the inner layer of the bellow and many, many others – according to the needs.
OFFERS – INQUIRIES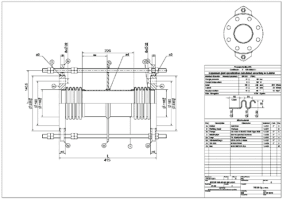 Metal expansion joints, due to their specific features, are in the most cases individually designed for the application in precisely defined working conditions.
To enable us submitting the offer it is necessary to specify every information regarding required working parameters and application. When we will receive the complete, we will reply promptly with the offer containing full technical data and detailed technical drawings of the product.
As our experienced suppliers makes all steps, from the design, through manufacturing the bellow from the chosen metal sheets, up to welding the complete metal expansion joint with all auxiliary features, we strongly believe, that we are able to supply complete, effective and economic solutions in this range of products.

PTFE expansion joints
When few decades ago the PTFE have entered the industry it begun revolution. The same was in the range of expansion joints. Combination of perfect cleanliness, chemical inertness and much higher than for any rubber maximum working temperatures made it attractive for expansion joint applications, so resulted investigations towards manufacturing bellows form this material. Actually, they have already their own place in the family of expansion joints, being state-of-the-art technical solution for the range of applications, especially in strongly corrosive environments. The manufacturers of metal expansion joints have introduced the PTFE linings and there were made fully PTFE bellows, which have a minimal spring rate.

Typical ranges:
DN from 25 up to 600 mm
PN from vacuum up to 16 Bar
Temperature up to +235°
There are several methods of manufacturing PTFE expansion joint. The ones supplied by us are made in the process of multilayer lamination what results with minimum permeability and high fatigue resistance – thanks to that method of production and high quality they provide an extra lifetime. The standard tie rods protects the bellow against the movements over limits.
Due to exceptional resistance to chemicals and high temperature, as well as strongly corrosive environment, they are widely used in the paper, chemical and petrochemical industries and thanks to cleanliness, non-toxic PTFE and possibility of fine cleaning they are applied in food and pharma industries.


Versions and options:
antistatic (black) and antistatic FDA approved,
double wall bellow with leakage detection,
non-standard limiters of the movements,
inner sleeves protecting the bellow,
special flange and accessory materials.
Types
Specific parameters for every type are listed on the catalogue pages available from the links above, but we strongly recommend asking us this gives us a chance to submit the best offer for the specific application and customer needs. When selecting the expansion joint for elevated temperatures conditions, the special care should be taken to observe the influence on allowable pressure and the dependence on the number of corrugations.