Hose assemblies – professionally made
Technology development and step-by-step higher working parameters, as well as growing demand regarding the reliability & safety of hose assemblies, turns the customers towards specialized hose assembling companies. For certain applications it is required that assembling company has to be authorized and certified by official body. In Poland such institution is TDT (Transportation Technical Supervision).
We have full range of options to manufacture ready-to-use hose assemblies. Apart from the classic mechanical attachment methods with clamps we use specialized swaging and crimping presses and we weld fittings to the metal hoses. Our welding procedures and the welders are qualified and approved. After assembly, the hoses are put into rigorous tests to verify and prove their quality and check if they met expected performance.
Ready, tested, assemblies are permanently marked according to our standards or according to the customers' need.
We also supply special hose assemblies made originally by our suppliers. There are available integrally PTFE lined hoses, more special versions of metal hoses, big bore composite hoses (ship-to-shore, offshore) and integrally vulcanized rubber ones.

What does it mean hose assembly?
Hose assembly is a flexible hose with fixed couplings or quick couplings. The simples example is a hose with two fittings fixed with clamps or bands. More advanced ones consist of more additional elements, that are necessary for the safe service or to meet requirements of standards or directives, e.g. for transfer dangerous fluids provided with breakaway couplings, shut-off valves, etc.

How to select a suitable hose assembly?
The basic informations, necessary to select the hose, are: internal diameter, length, style of couplings, fluid (kind, temperature), working pressure or vacuum and informations about environment – the external factors, e.g. if used outdoors or inside building. If we don't know these parameters, we are not able to find suitable hose to provide safe service. To help with selection please use our configurator. It will help to specify initial informations and then, our sales specialists will submit the offer in return, or contact you to ask additional questions necessary to complete the offer. Please fill in the informations carefully. If you are uncertain please double check and consider a margin for safety. Anyway, we suggest contacting our sales specialists to discuss if all important factors have been considered.
CAUTION
Please do not underestimate the critical parameters as pressure and temperature. If in the process there exists several parameters, always choose the extreme ones. Highest possible pressure and vacuum. Highest and lowest temperature. If the applied pressure, temperature, kind of fluid can be dangerous for life or health of people we strongly recommend contacting our sales specialists to assure about the selection.
Please remember, that you are responsible for correctness and accuracy of the given data.

Hose Assemblies – Overview
Rubber Hose Assemblies
Flexibility of rubber obviously suggests to use this material to manufacture hoses and then complete hose assemblies. Practical implementation of this idea brought many solutions, where the main construction material are different types of reinforced elastomers. Typically, the rubber hose construction consists of several layers: internal layer – selected to suit to the fluid passing through the hose, reinforcement – to reach the expected range of pressure and/or vacuum and the external layer – mainly for protecting the hose.
Internal layer
depending on purpose of the hose (kind of fluid) is manufactured from the one of many available now compounds, e.g. NR, NBR, EPDM, FKM, BR, etc. The main component of the compound is the elastomer mentioned by name, but the compounds contains also the other substances like: fillers, dyes, antistatic additives and others that are together giving the final result. For that reason, even the hoses manufactured from the "same" kind of rubber, but coming from the different manufacturers can be quite different in parameters like the temperature range, chemical resistance, quality of antistatic properties, flexibility and stiffness at low temperatures or permeability for the fluid. Apart from the features which are results of the compound used, the technology of production is also important. While extruding is producing more homogenous material, wrapping the tape of raw rubber around the mandrel may easier result imperfections between the wraps.
Since some time, because the chemical resistance against the certain types of aggressive chemical fluids has been proved to be insufficient, the improvement is achieved by applying modern polyethylene and fluoropolymer liners. The most common are UPE, FEP and PTFE. Such kind of hoses have a very good chemical resistance and quite wide range of working temperatures, but are loosing some flexibility, especially at lower temperatures. Important are also additional features of these plastics: very high abrasion resistance (UPE), and compatibility with foodstuffs. However – because of the possibility of damaging the thin inner layer of plastic – require using the specialized end fittings, without deep serrations.
Not to miss is the growing family of hoses manufactured from the thermoplastic rubbers, which, differently from the classic elastomers do not need to be vulcanized. Regarding the flexibility, they often the supersede the true rubber hoses, bringing its own attractive features of their construction material: clarity, wide resistance and cleanliness. Actually available materials are TPV, TPS and TPU.
Reinforcement
of the hose is made to suit the style of job – delivery or suction-delivery – with textile cord, braid with yarn or metal wires to achieve the pressure resistance and/or spirals of metal wire or rigid plastic are applied to achieve a vacuum resistance.
Apart from this basic function, i.e. providing the right pressure and vacuum resistance, the specific technology being used has a strong impact on the final properties of the hose – its weight, minimum bending radius, practical flexibility and behavior under pressure changes (fluctuation of volume and length). It has to be remembered, that all three layers have to be perfectly bonded together – internal with reinforcement and the outer layer, which is not easy due to the nature of the reinforcing materials: yarns, braids and spirals from metal or plastic. No to miss is the fact, that the materials used have to keep enough chemical resistance against substances that could migrate through the inner layer into the hose structure.
[/cc_third_col]
External layer
has to protect the hose. The most obvious factor acting on the hose externally is friction when handling the hose. Not to miss are the factors like sunshine, weather conditions. In some specific applications, the next factors come: chemical substances, dirty environment of mineral oils, animal fats, required fire retardancy or others. To suit these tasks the rubber compounds for outer layers are usually different form the ones used for inner layers. Recently, quite often thermoplastics are used to coat the rubber additionally.
If the hose is naturally stiff, e.g. because of use the thermoplastic liner, the flexibility can be improved by corrugating the hose externally.
In many applications the hose covers are used for identification: have specific color or permanent marking specific for certain application.
Endfittings
In majority of applications for technical hoses we mean the applications involved with pressure or vacuum – that is the reason for reinforcement of the hose. To achieve the goal – to connect the hose to installation – it is necessary to assemble the end fittings properly. We have to remember, that end fittings and their mounting parts have to meet all expected working parameters: i.e. pressure rating, temperature range and the chemical resistance.
Selection of the connections is a separate issue and generally means the need to identify the standard, type, size and material of the coupling. In this place we would like to focus only on the side that is fixing the end fitting with the hose.
Rubber hoses offers several available possibilities of assembling the end fittings. Basically, we can name four categories:

Assembling with bands (clamps)
that are not supporting the end fitting directly is the simplest, traditional method of self-assembling. It is being used for serrated hose tails, inserted into rubber or thermoplastic hose. It is important if the band or clamp squeezes the hose strong enough that the end fitting could have not slip off under pressure. Two bands for each fitting have to be applied for more safety .
Assembling with clamps systems
is the answer to need for improvement of attaching end fittings, confidence for proper assembly, preserving the possibility of disassembling, and reaching higher working parameters. Referring to the systems using shell clamps, the shells together with the specially profiled hose tail are consisting one integral system. Strong, robust clamp shell, selected according to the nominal diameter of the hose and its wall thickness, keeps the hose firmly and strongly squeezed to the smooth end fitting tail, with the bolts. The same clamp keeps also the end fitting with the tongue by the collar. In terms of strength it provides the similar result to mechanically crimped ferrule. Such type of end fittings is nowadays widely used for rubber hoses for oil, fuel & chemical applications. The similar solution was developed and accepted also for the steam hoses.
The end fittings with threaded ferrules are used mainly for the smaller hose sizes (popular are from DN 13 up to DN 25). The fitting is screwed into the ferrule that has been put on the hose. The end fitting compresses the hose wall – and makes a tight connection. This is the most commonly used style for dispenser hoses on petrol stations. Similar solutions, based on the same principle, could be found on the specialized hoses for pharmaceutical and food industries – also in bigger sizes.

Assembling by crimping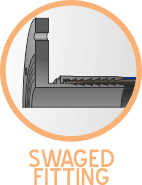 is widely used for hydraulic hoses – because of the strength – but commonly applied to high grade industrial hoses. Crimped metal ferrule is providing mechanical strength, but also protect against unauthorized disassembly. Usually, the ferrule is externally smaller and easier to keep clean than clamps or bands. Additionally, thanks to that technology it is possible to achieve optimal and even squeeze of the hose wall to the tail, preventing creation of dead ends with stagnant fluid. In the special executions, the internal swaging is being used, so the final bore of the fitting can be of the same diameter as the hose is. It helps to transfer fluids with high consistency of solids and to clean the hose precisely, for example with pigging.
Integrally vulcanized
There are several cases when the best solution is to build-in the fitting into the hose during production. Of course, the length of such assembly cannot be adjusted, but we gain the full, integral bonding of the fitting to the hose reinforcement. This kind of assembly delivers also the another, unique feature: the inner layer could be directly, through the fitting lined up to the sealing face of the coupling. This is especially valuable for the chemical applications, where the metal coupling is shielded from the passing fluid. Integral vulcanizing is also often used for a large and very large hoses (over DN 150 mm).
In some other specific applications there is a need for soft ends (cuffs) which enables the use of simple band clamps.

Examples of rubber hose assemblies
Hose assemblies for road tankers, railcars (petrol and jet fuels, LPG, chemical fluids) and ship-to-shore.
Hose assemblies for reels on road tankers (petrol & jet fuels, LPG, chemical fluids).
Hose assemblies for loading and unloading terminals.
Hose assemblies for process installations in chemical and petrochemical plants.
Hose assemblies for pneumatic transport of dry abrasive materials and blasting.
Hose assemblies for wet abrasive fluid transfer.
Hose assemblies for Road tankers for foodstuffs (milk, juice, potable water, alcohols, chocolate and vegetable oil).
Hose assemblies for process installations in food industry.
Composite Hose Assemblies
Huge development in production of high performance plastics sometime ago have given impulse to invent multilayer hoses totally without rubber or solid, thick plastic. Number of carefully selected layers of foils and textiles compressed between the two metal wires creates the hose, while especially profiled hose tails, seals and swaged metal ferrules provides a permanent assembling of fittings. Due to its construction, composite hoses are highly flexible, practically independently from the temperature. This feature makes them preferred solution for road tankers. Variety of available construction materials allows to make with this technology hoses for extreme low (liquid gases) and high (hot bitumines) temperatures, integrate in the hose structure newest thermoinsulating materials (cryogel), fire or chemical resistant ones, so finally the hose meets the needs of demanding applications. Very important feature of composite hoses is possibility to manufacture them in large diameters (up to DN 300) in relatively long continuous lengths (25m). Therefore they become a good alternative for mass fluid transfer, e.g. ship-to-shore.
Because assembly of the fittings requires use of special tools and machines as well as a good experienced assembler, they are offered only as readymade assemblies – provided with the end fittings and pressure tested.


Internal layer
Internal layer is selected to suit the hose application. Commonly it is PP. PE or PTFE which is providing the appropriate chemical resistance. Because the internal spiral wire is also exposed to the passing fluid, its material has also to be suitable. We have the choice of aluminium, zinc coated steel, stainless steel or even titanium. Additionally we can apply a plastic coated wire: PP or PVDF. The advantage of the uncoated metal spirals, is providing a good way to conduct the electrostatic charges away from the inside of hose to the end fittings, in applications that need it.
Obvious disadvantage of composite hoses is lack of internal smoothness and more difficult cleaning from residues of fluid, therefore. For the same reason the damping of flow is higher than in the classic rubber hose.


Reinforcement
When the internal spiral wire provide a good vacuum resistance, the spirally wrapped layers of textiles are responsible for the pressure resistance. Composite hoses for the European market (EN 13765:2010) are commonly used in two classes of working pressure: 10 & 15 bar.
In some versions some additional layers could be implemented, e.g. to prevent migration of fluid or to provide a special barrier, e.g. thermal.


External layer
as always, has protective function. Usually it is a vinyl coated textile that helps to keep the hose clean. Thanks to availability in bright colours, the customers usually order their own specifications for easier visual identification of the hose assemblies used for a different fluids. In some special applications (i.e. ATEX) the special antistatic textiles are used.
Of course, we cannot forget about the external wire. Dependently on needs, it can be made from aluminium (weight), galvanized steel (economy), stainless steel (corrosive environment) or steel plastic coated (also to protect against corrosion).


Endfittings
have to be dedicated for composite hoses of the given manufacturer (pitch and direction of the spiral). Assembly should be provided only by the qualified staff. Special tools and swaging machines are necessary, as well as experience.

Examples of composite hose assemblies
Hose assemblies for road tankers, railcars (petrol and jet fuels, chemical fluids) and ship-to-shore.
Hose assemblies for loading and unloading terminals.
Hose assemblies for process installations in chemical and petrochemical plants.
Metal Hose Assemblies
Flexible metal hoses made from a thin wall, convoluted metal sheet and reinforced with the wire braid, take an important place between the available flexible hose constructions. They are totally gas-tight, can be used to the widest range of working temperatures, they are totally nonflammable and have the natural ability to dissipate static charges. Because they are available in a very wide range of diameters, versions providing different capabilities of flexibility and pressure/vacuum resistance, they could be found in many, very different applications.
Because assembling of the end fittings requires a special welding, this kind of hoses is supplied only in a form of ready a ready assemblies, prior to that – leak and/or pressure tested.

Internal layer
is usually made from the thin, stainless steel, convoluted metal tube. Several qualities of stainless steels are used or the special alloys like Monel® or Hastelloy® – if an extra corrosion resistance is required. There are several different profiles and methods how to make convolutions which results different strength and cycle movement resistance. Convoluted profile additionally provides also a high vacuum resistance.

Reinforcement
Reinforcement provides the pressure resistance by the external wire braid. In order to achieve higher pressure ratings the manufacturers apply two or three braids or specially woven braids made from the stainless steel wires.

Endfittings
have to be welded in the way to achieve a seal connection between the thin metal sheet of inside tube with the fitting and weld together the ends of wires of the braid. Additionally, for demanding chemical and food applications the welds have to be made internally clean, so there could not remain any sharp edges of the metal tube inside. The material of fitting have to transit smoothly into the metal, convoluted tube. Such kind of welding requires special qualifications of the welder.

Examples of metal hose assemblies
Hose assemblies for road tankers, railcars (chemical fluids, fuels, technical gases, cryogenic gases) and ship-to-shore.
Hose assemblies for loading and unloading terminals.
Hose assemblies for process installations in chemical and petrochemical plants.
Heated hose assemblies.
Silicone Hose Assemblies
Silicone hoses which are currently used to manufacture hose assemblies are principally the same as rubber. The difference, is basically the use of clean, clear silicone rubber, which is usually softer than the other types of rubber used to make industrial hoses. Because this kind of hose is designed for high purity applications and often cleaning and sterilization, the more important is appropriate assembly of the end fitting. It has to be done in the way to avoid creation on any dead ends or steps preventing good cleaning of the hose, but also in the way to fix the delicate hose material without damaging. Assembled silicone hoses are usually being sterilized periodically during their service, e.g. in autoclave.
Because the crimping of ferrules requires operator's experience, this kind of hoses we supply mainly as complete hose assemblies.

Internal layer
is made from clear silicone rubber.

Reinforcement
is made to suit the type of service: suction or suction-delivery and this capability is reached using textile cord or braid for pressure resistance and with steel wire spiral – for vacuum resistance.

External layer
has to protect the hose and provide smoothness necessary for precise cleaning. In silicone hoses, the cover layer is usually made from the same kind of silicone as the internal one. Sometimes instead of clear silicone, the white silicone is used. To reach the highest level of cleanliness platinum curing process is applied.

Endfittings
End fittings and crimping ferrules have to be adjusted to the softness of silicone rubber to enable optimal swage without weakening the material. The end fittings usually have connections designed especially for the high purity installations. Popular are different standards of Triclamp range couplings as well as threaded couplings DIN 11851 and SMS 1145.

Examples of silicone hose assemblies
Hose assemblies for pharmaceutical industry.
Hose assemblies for cosmetics industry.
Hose assemblies for food industry.

PTFE Hose Assemblies
Classic PTFE hoses consists of, reasonably thick, internal PTFE liner reinforced with the external wire braid, commonly from stainless steel wire. Thanks to the unique properties of PTFE, those kind of hoses is likely to apply in many different areas of industry. This material is perfectly suitable for high purity applications, is extremely resistant to most common chemicals and does not contain any toxic additives. It can be used in a wide range of temperatures – much wider than available for the rubber hoses. It does not ageing, as rubber. Additionally, the PTFE liner can be conveyed through the end fitting bore to the outside and permanently formed into the sealing surface of the coupling, thanks to that the metal of fitting is completely shielded from the passing fluid.
PTFE hoses are very versatile, but it has to be remembered about several limitations of this design:
– when the temperature grows, the strength of PTFE tube drops (plastic softens)
– standard PTFE hoses have quite high level of permeability for certain gases. There are special versions in which PTFE is additionally processed in order to decrease its natural level of permeability of gas particles
– PTFE liner is delicate and relatively is easy to damage mechanically, e.g. when cleaning or assembling.
Assembling fittings on PTFE hoses requires use of special machines and tools and also use of specially designed end fittings. It is necessary to use at least a swaging press and for integrally lined fittings – special thermal treatment/shaping. For this reason we supply PTFE hose assemblies only as ready-made-assemblies, with assembled couplings.
Internal layer
Because PTFE plastic is relatively stiff, to make it flexible, especially at bigger hose diameters, manufacturers applies convolution or external corrugation of PTFE tube. Convolution is commonly spiral. Thanks to that, stagnation in convolutions is avoided – passing fluid can flush the eventual residues and sediments. Thickness of PTFE tube varies from approximately 1 mm for the small hoses (e.g. DN 5 mm) up to several millimeters for bigger hoses (maximum DN 150 mm). There are used two popular versions of PTFE – natural, translucent and black – antistatic. Smooth tubes are used typically up to DN 25mm. Above that, without special arrangements, smooth tube become stiff and easy to crack. Convoluted tubes are used up to the biggest hose sizes – they provide very high flexibility and small bending radius.

Reinforcement
of the hose for pressure service is achieved with the external wire braid, similar to metal hoses. Usually it is made from stainless steel wire, but also plastic braids are applied: PP and PVDF. Quite high vacuum resistance is achieved by the stiff plastic itself and additionally by the convoluted profile. If the application requires the higher vacuum capability the external spiral metal wire is wrapped around the convoluted tube.
In advanced versions the special covers can be made, e.g. with vulcanized rubber that is providing additional protection, enable easier cleaning, or reinforce the hose next to the end fitting (kink protection) or many others.
Endfittings
and the swaged ferrules have to be suited for relatively thin tube, so that too sharp edges or deep ribs could not damage it during swaging. Much more complicated is the process of integral lining, i.e. conveying the PTFE hose tube through the end fitting bore outside and then heat shaping it into a sealing face of the coupling. Thanks to that we gain a total absence of any gaps which are normal, when PTFE is traditionally swaged over the inserted end fitting hose tail. So, we have the possibility for precise cleaning of the hose and perfect protection for the metal of end fitting against the passing fluid – what is essential for the ultra pure liquids and for the chemicals highly aggressive for metals.

Examples of PTFE Hose Assemblies
Hose assemblies for fluids In pahrma, cosmetics and food industries.
Hose assemblies for process installations on chemical and petrochemical plants.
Universal hose assemblies for reloading chemicals.
Steam hose assemblies (rubber industry: forms for vulcanize, heating installations, industrial steam).
Electrically traced hose assemblies (e.g. for glues/adhesives PU)
Plastic Hose Assemblies
More and more hoses made from the thermoplastics replaces the rubber hoses In popular applications. Some of them, in its construction and look, are exact equivalents of rubber hoses and they are fitted with couplings in the same way as the rubber hoses assemblies (excluding vulcanizing). The other ones are made differently. Such a very popular group are hoses extruded from the flexible plastic (most common are PVC and PU), reinforced with the spiral made from the rigid plastic (usually PVC, some with metal wire or other kind of plastic). This kind of hoses typically have a very good resistance for vacuum and some for pressure – strongly dependent on the type of material used and its thickness. Of course, there are the versions with braid, reinforced additionally for a pressure. There are several advantages of these hoses:
– they are lighter than rubber ones
– there are available transparent materials that enables to see through the hose wall
– in general are cheaper and easier available in many versions
– frequently may show better resistance and durability than rubber ones in the same applications
The limitations for this kind of hoses are usually mechanical strength and rather narrow range of working temperatures.
Assembly of the end fittings is usually done by the users themselves with commonly available band clamps. However, more and more users are interested in purchasing ready assemblies fitted with couplings. Because the traditional strong band clamps are not very ergonomic in daily use (sharp edges, standing high above the hose wall) the more popular is becoming use of the swaged ferrules.
we recommend IPL products

Reinforcement
consists of rigid plastic spiral (e.g. PVC) or wire. For pressure service the braid is used. Often, to provide the antistatic properties, parallely to the reinforcing spiral, the copper cord is applied. Apart from this popular solution there are more and more plastics that can provide a permanent antistatic properties appears on the market (electrical resistance range from 104 to 108 Ω).
Advanced hoses are made from the different combinations of materials, jointed together during production process. In that way, the different kinds of polyurethanes are used – as a body material or as a liner. Thanks to that, resistance against abrasion, the improvement of flexibility and widening the range of working temperatures have reached higher levels.


Examples of Plastic Hose Assembilies
Hose assemblies for pumps, waste water and slurry.
Hose assemblies for discharging IBC containers.
Hose assemblies for food industry.


Endfittings
End fittings usually are universal, serrated, similar or the same as for rubber hoses. But, considering less extendibility of traditional thermoplastics than rubbers, insertion of the end fittings, especially of bigger sizes, can be difficult. To fix the fittings usually band clamps are used. For the safety reason it is advised to use at least two clamps for each fitting.